Pendekatan dan Pemecahan Masalah Implementasi Kebijakan Subsidi Perumahan bagi Masyarakat Berpenghasilan Rendah
Kata Kunci:
Analisis kebijakan, evaluasi kebijakan, implementasi kebijakan, masyarakat berpenghasilan rendah, subsidi perumahan
Abstrak
Pemerintah memegang peranan penting dalam menyediakan akses kepemilikan rumah bagi masyarakat berpenghasilan rendah. Implementasi kebijakan subsidi perumahan menjadi kebijakan pemerintah di bidang perumahan telah dikembangkan dan berlangsung lebih dari sepuluh tahun hingga saat ini, namun aparat pengawasan pemerintah baik internal maupun eksternal masih menemukan permasalahan yang sama dan cenderung berulang dari tahun ke tahun diantaranya ketidaktepatan sasaran penerima subsidi rumah dan tingkat keterhunian rumah subisidi yang rendah.  Penelitian ini ditujukan untuk menganalisis permasalahan implementasi kebijakan subsidi perumahan yang dihadapi pemerintah dan langkah pemerintah untuk mengatasi permasalahan berulang tersebut. Dalam penelitian ini dikembangkan beberapa metode penelitian diantaranya menggunakan pendekatan literature review, pendekatan logic model, pendekatan system thinking dan analisis SWOT. Hasil penelitian berupa rekomendasi kebijakan yang dapat dipakai pemerintah sebagai solusi alternatif dalam mengatasi permasalahan yang sama dan berulang tersebut diantaranya melakukan pengawasan yang lebih melekat dengan melibatkan pihak pengembang/pengurus masyarakat setempat dan penerapan sanksi yang tegas dengan pencabutan manfaat subsidi yang tidak tepat sasaran.
Referensi
Abdul Rashid, K., Nur Farah Naadia Mohd Fauzi, P., Farihah Hasan, S., & Fairullazi Ayob, M. 2019. Empowering Wakaf and Zakat in the Provision of Affordable Housing through Collaborative Procurement. MATEC Web of Conferences, 266, 03015. https://doi.org/10.1051/matecconf/201926603015
Agus, F., Fanny, S., & Muliana, R. 2020. Efektivitas Implementasi Program Perumahan Bersubsidi Bagi Masyarakat Berpenghasilan Rendah Kota Pekanbaru (Studi Kasus : Kecamatan Tenayan Raya). Jurnal Saintis, 20(02), 101–109. https://doi.org/10.25299/saintis.2020.vol20(02).5710
Ajayi, O. O., Faremi, O. J., Roger, S. D., & Uwaje, A. 2020. Affordable Housing For Low-Income Masses: A Case Study of A Densely Populated Area in Lagos Metropolis. CSID Journal of Infrastructure Development, 3(1), 64. https://doi.org/10.32783/csid-jid.v3i1.89
Andriani, W. 2022. Penggunaan Metode Sistematik Literatur Review dalam Penelitian Ilmu Sosiologi. Jurnal PTK dan Pendidikan, 7(2). https://doi.org/10.18592/ptk.v7i2.5632
BPS Kabupaten Bekasi. 2020. Database BPS Kab. Bekasi. https://bekasikab.bps.go.id/subject/12/kependudukan.html#subjekViewTab3
Boukari, W., & Long, F. 2021. Do the developers need government assistance? The effect of TIF policy on affordable housing construction budgets. Cities. https://doi.org/10.1016/J.CITIES.2021.103398
Debrunner, G., & Hartmann, T. 2020. Strategic use of land policy instruments for affordable housing – Coping with social challenges under scarce land conditions in Swiss cities. Land Use Policy, 99. https://doi.org/10.1016/J.LANDUSEPOL.2020.104993
Diana, L. 2018. Megastructures: a great-size solution for affordable housing. The case study of Rome. Megastructures, 3, 72. https://doi.org/10.6092/issn.2611-0075/8514
Dunn William, N. 2003. Pengantar Analisis Kebijakan Pulblik Edisi Kedua (M. Dr. Muhadjir (ed.); Edisi Kedu). Gadjah Mada University Press.
Ezennia, I. S., & Hoskara, S. O. 2019. Exploring the severity of factors influencing sustainable affordable housing choice: Evidence from Abuja, Nigeria. Sustainability (Switzerland), 11(20). https://doi.org/10.3390/su11205792
Ezennia, I. S., & Hoskara, S. O. 2021. Assessing the subjective perception of urban households on the criteria representing sustainable housing affordability. Scientific African, 13. https://doi.org/10.1016/J.SCIAF.2021.E00847
Humphrey, A. S. 2005. SWOT Analysis for Management Consulting. SRI Alumni Association Newsletter, December, 7,8. http://www.sri.com/sites/default/files/brochures/dec-05.pdf
ICHSAN, N. AL. 2018. Kewenangan Pemerintah Kabupaten Lebak Dalam Menetapkan Retribusi Izin Mendirikan Bangunan. Ejurnal.Unisri.Ac.Id, 23–47. http://repository.uinbanten.ac.id/id/eprint/161%0Ahttp://repo.iain-tulungagung.ac.id/id/eprint/7008%0Ahttp://ejurnal.unisri.ac.id/index.php/widyawacana/article/view/3501%0Ahttp://repository.ump.ac.id/1942/
Koetter, T., Sikder, S. K., & Weiss, D. 2021. The cooperative urban land development model in Germany - An effective instrument to support affordable housing. Land Use Policy, 107. https://doi.org/10.1016/J.LANDUSEPOL.2021.105481
Kusumastuti, D. 2015. Kajian Terhadap Kebijakan Pemerintah Dalam Pemberian Subsidi Di Sektor Perumahan. Yustisia Jurnal Hukum, 93(3), 541–557. https://doi.org/10.20961/yustisia.v93i0.3682
MacAskill, S., Sahin, O., Stewart, R. A., Roca, E., & Liu, B. 2021. Examining green affordable housing policy outcomes in Australia: A systems approach. Journal of Cleaner Production, 293. https://doi.org/10.1016/j.jclepro.2021.126212
McFadden, E. S. 2014. Aging in (Privatized) Places: Subsidized Housing Policy and Seniors. Journal of Housing for the Elderly, 28(3), 268–287. https://doi.org/10.1080/02763893.2014.930364
Mohamad, M., Yubaidi, R. S., Hussein, S. M., Ismail, R., Isa, S. M., & Aziz, S. N. A. 2021. Measuring the low-income earner on housing access in urban areas of Indonesia and Malaysia. Hasanuddin Law Review, 7(2), 61–74. https://doi.org/10.20956/halrev.v7i2.2876
Murray, C. K. 2020. Time is money: How landbanking constrains housing supply. Journal of Housing Economics, 49, 101708. https://doi.org/10.1016/j.jhe.2020.101708
Orfield, M. 2015. High Costs and Segregation in Subsidized Housing Policy. Housing Policy Debate, 25(3), 574–607. https://doi.org/10.1080/10511482.2014.963641
Priliansyah, Z. A. 2021. Kebijakan Pemerintah dalam Pemberian Subsidi Perumahan Bagi Masyarakat Berpenghasilan Rendah. In Hak Cipta Milik UIN Sutha Jambi. Universitas Islam Negeri Sulthan Thaha Saifuddin Jambi.
Permen PUPR tentang Kemudahan dan Bantuan Pembiayaan Perumahan Bagi Masyarakat Berpenghasilan Rendah, 2021.
Siswanti, D. D. 2013. Pengendalian Kepemilikan RSH Subsidi di Kelurahan Meteseh Kota Semarang. Jurnal Pembangunan Wilayah & Kota, 9(2), 194–204. https://doi.org/10.14710/pwk.v9i2.6536
Siswanto. 2010. Systematic Review Sebagai Metode Penelitian Untuk Mensintasis Hasil-Hasil Penelitian (Sebuah Pengantar) (Systematic Review as a Research Method to Synthesize Research Results (An Introduction)). Buletin Penelitian Sistem Kesehatan, 13(4), 326–333.
Sterman, J. 2000. Business Dynamics: System Thinking and Modeling For a ComplexWorld. The McGraw Hill Companies.
Susan Purdon, Carli Lessof, K. W. and, & Bryson, C. 2001. RESEARCH METHODS FOR POLICY EVALUATION. Her Majesty's Stationery Office.
Wang, W., & Wu, Y. 2020. Exploring the coordination mechanism for public housing supply with urban growth management: A case study of Chongqing, China. Sustainability (Switzerland), 12(10). https://doi.org/10.3390/SU12104047
Wijburg, G. 2021. The governance of affordable housing in post-crisis Amsterdam and Miami. Geoforum, 119, 30–42. https://doi.org/10.1016/J.GEOFORUM.2020.12.013
Xiao, Y., Miao, S., Sarkar, C., Fan, L., & Li, Z. 2020. Do neighborhood ties matter for residents' mental health in affordable housing: Evidence from Guangzhou, China. Cities, 100. https://doi.org/10.1016/J.CITIES.2020.102666
Zheng, S., Song, Z., & Sun, W. 2020. Do affordable housing programs facilitate migrants' social integration in Chinese cities? Cities, 96. https://doi.org/10.1016/J.CITIES.2019.102449
Zuo, C. 2019. Land Revenue and Low-Rent Housing Provision: Local Political Economy of Affordable Housing Reform in China. Chinese Political Science Review, 4(1), 71–85. https://doi.org/10.1007/s41111-018-0114-2.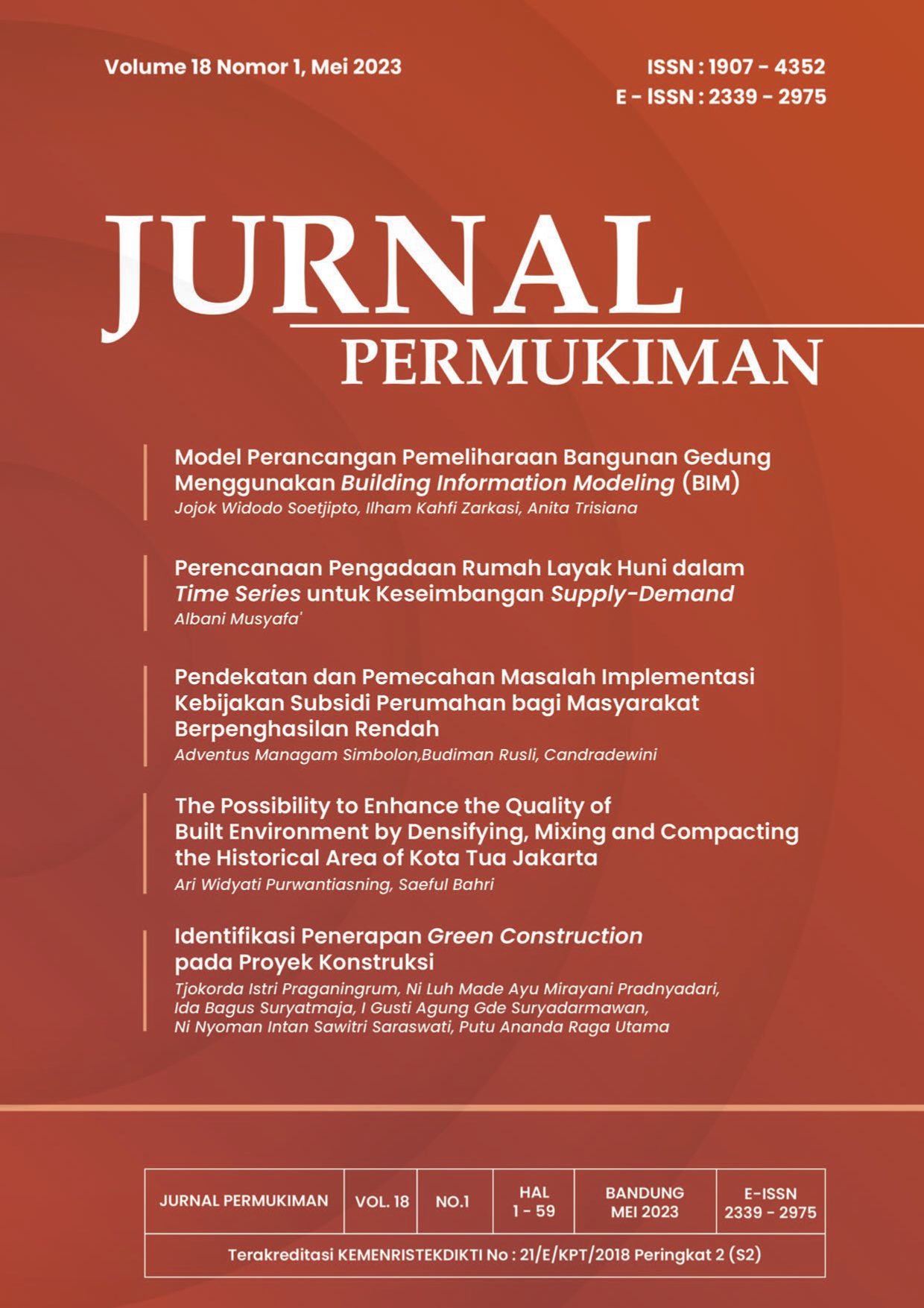 Unduhan
Cara Mengutip
Simbolon, A. M., Rusli, B., & Candradewini. (2023). Pendekatan dan Pemecahan Masalah Implementasi Kebijakan Subsidi Perumahan bagi Masyarakat Berpenghasilan Rendah. Jurnal Permukiman, 18(1), 25–35. https://doi.org/10.31815/jp.2023.18.25-35
Lisensi
Hak Cipta (c) 2023 Hak Cipta (c) 2023 Jurnal Permukiman
Artikel ini berlisensi Creative Commons Attribution-NonCommercial-NoDerivatives 4.0 International License.